At the time of writing, our newest brand at Those That Know is The Two Ears Brand. Based in Japan, they make the world's finest selvedge bandannas using the same manufacturing processes and attention to detail that went into an 1800s original.
There's two sides to what they do: The Two Ears Brand and The One Ear Brand. The former is concerned with producing perfect replicas of vintage bandannas and the latter is about doing something all together different.
In our conversation we talk to Jonathan about how the brand came about, what goes into each bandanna, the differences between the two brands and his thoughts on the rest of the heritage bandanna market.
If you'd like to see the products we currently have available from the brand, head over to The Two Ears Brand section of our shop. You can also follow the brand on Facebook and Instagram. If you have any questions or would like more information, you can get in touch with us at [email protected].
A good place to start is to ask where your interest in bandannas came from?
Bandannas to me are pretty mysterious, there are a lot of variations and very little common knowledge about where they come from and who made them. Just kicking small stones of research around I realized there was a deep well that existed for bandanna history and origin.
What really grabbed my attention was that bandannas are much older than I realised and from another side of the world, India actually…
What was the catalyst that turned this interest into The Two Ears Brand?
After looking at and collecting 1000s of vintage bandannas over the years you tend to get gauge for quality. Looking specifically at the Turkey Red bandannas from the 1800s the quality that most people associate with bandannas aka the Fast Color bandanna are a far cry in quality.
There is also the quandary of other brands making bandannas. Looking at this from a consumer perspective I thought the quality of what was out there in today's market would be decent. It isn't… The quality (without naming names) of the majority of bandannas are basically shit. The quality of the fabric, print and stitching is so low it really isn't even worth talking about.
That observation of the low quality and that most brands use bandannas like as a novelty, really got me thinking. Why not try and make an authentic replica of print and fabric? How hard could it be right? Wrong… it took almost 10 years to get it right… and eventually, I met the right people who put me in touch again with the right people and the result is the Two Ears Brand.
For me though Two Ears wasn't enough, making replicas is a slow process and tedious. I am a feisty person and once I had my next idea I continued with high quality print and fabric and aimed at making a larger sized bandanna with a more art-forward design, and recently started my off shoot called One Ear Brand.
As a follow up to your comment on the low quality available elsewhere, what details were you keen to include in you product to make it a higher quality, more faithful replica of an original?
The important thing was to get the printing exactly right. I had found through research that bandannas were mostly made by discharge printing. Meaning the fabric was dyed and then the design was bleached out. I'm not sure this is the process used for all bandannas. Especially the non fast color bandannas from the 1800's were dye-printed most likely with stencils.
Also fabric… most companies use bandanna blanks and only one side selvedge. Some don't even do that they just over lock the edges. The average consumer is familiar with 54-57cm bandannas that are not square they're slightly rectangular. I wanted to make a perfect square with interesting dimensions it may not be authentic size wise but it's hard to find good fabric that's both narrow and selvedge.
Also I wanted a fabric with the same thread count as 1800-era bandannas. They have a very special fabric feel they're not that soft but they drape fantastic, they also last much longer than the cheaper Fast Color ones produced in the USA etc after 1920.
I guess I was just disappointed with all the companies producing bandannas out there despite having huge budgets for production, they really didn't take pride in making a good reliable bandanna.
I felt that I wanted to try to change the way people perceived bandannas. I've never really shared this aspect of Two Ears Brand before with anyone before it may seem kind of grandiose but I am one of the most passionate people on the earth for bandannas.
You mentioned in your last answer that making The Two Ears brand a reality took almost 10 years. I'd be interested to hear a bit about that process and the journey you went on to get to this point?
Basically during the 10 years it took to search for the right facilities, I researched and gathered as many vintage bandannas as I could. While doing so made many friends in the process and ended up working at Kapital starting with opening the The Elephant Brand Bandanna Museum.
Given the uniqueness of what they do, working for Kapital sounds like a great experience. I'd be interested to hear about the museum and what that project entailed?
Basically I did all the research and curated the entire museum by myself. Most of the bandannas I dated by myself there are also a lot of rare bandannas that I added to the collection.
Since this year however, Kapital and I parted ways after a 7 year experience, so I am no longer really affiliated with the museum anymore.
You briefly touched on the One Ear Project earlier. How did this collaboration come about and what differentiates the bandannas made under this label from Two Ears?
There is huge difference in the brands. I am a fan for authenticity but once you achieve that, there isn't really much you can do to improve it. It is kinda like playing the same record over and over… I am not one for doing the same thing over and over.
So thats kinda where I started One Ear project. Yurika (Yurika Cherise Shikai) is the artist I work with and is someone who I have worked with from time to time on a few design projects. She is an amazing artist and a gem to work with. The One Ear Brand is entirely original design bandannas.
Sometimes I draw inspiration from old bandannas but only slightly, and usually only to help guide Yurika through the process of draft to final. We work through email and the occasional text… I really wanted to design bandannas that feel more like music albums than just pieces of cloth. You can't really do with with replicas, the art and originality is somewhat left out of the process.
The One Ear Brand is dead-set on making unorthodox bandannas in the sense that they are large, unpredictable and very exciting. These are a hard thing to sell no doubt, but people eventually always come around once enough people start sharing the experiences of them.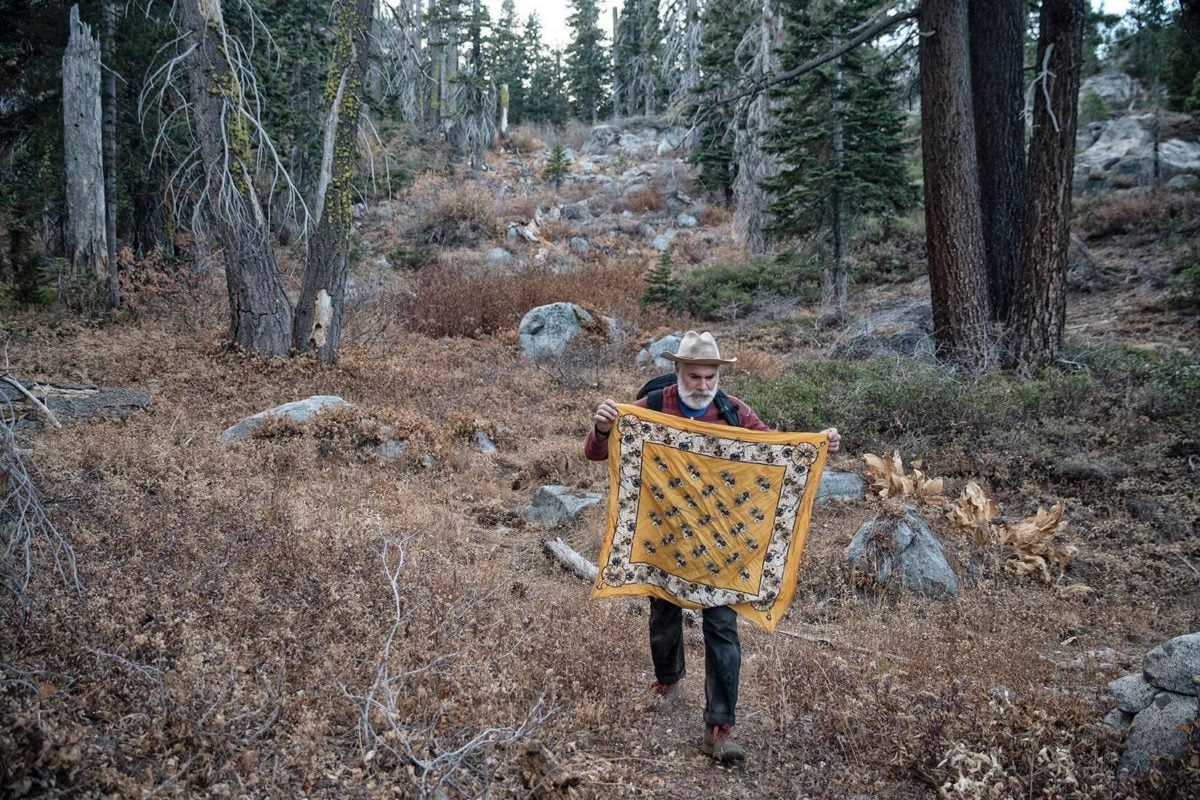 Fortunately I have an amazing circle of the coolest people on the planet that always help support my projects. The audience for bandannas is polar opposite. I wanted to make a product that brought these two worlds together and One Ear Project has become that sort of bridge. This is sort of the work I do anyway in Japan, make bridges, naturally I would end up creating a product that does it as well.
I also wanted a product that could be used in many ways and that would appeal to more people. The larger size offers more options, and you can always just hang them on your wall. They also work great as a scarf so they can used in a variety of ways year-round just about anywhere in the world.
We're excited to be on board and looking forward to being able to offer the brands to our customers. What can we expect from both the Two Ears and One Ear Brands in 2021 and beyond?
Two Ear is a slow moving project as rendering these bandannas takes a lot of time and it's only being worked on little by little. I wish I had some decent Adobe Illustrator skills so I could do the work myself but alas I am not that sort of person.
There are many designs in the works and some very close to being finished and ready for printing. To make perfect replicas the layouts have to be just so, to work right otherwise they don't come out perfect. Again the hand printing we are working with is very finicky.
The bandannas when compared in a large amount all differ slightly just like the originals from over a hundred years ago. That imperfect process is what is appealing and some customers and clients are getting used to this concept and accepting that things don't have to be generically "perfect".
We are working on a really cool bandanna with an interesting colour scheme called "Lancaster Blue". It should be out in 2021.
---
The first drop of bandannas from The Two Ears Brand will be online in mid-December 2020. Head over to the bandannas section of our website to get yours.