With the Winter 2019 Papa Nui Cap Co. collection scheduled to arrive with us very soon, we spent some time talking to the man behind the brand, John Tesoriero, finding out about his history, the story of Papa Nui and his influences and inspiration.
How and why was the Papa Nui brand conceived?
Originally I was wearing some nondescript repop Marine covers at the beach, you know the ones, made in America using immigrant labor and not very expensive. Anyways under the Australian sun I realised that didn't really function well at all. What I really needed was a full visored aviators style cap that would hold the glare at bay and be substantial enough to hunker under for a full day on the sand. Form follows function right?
The Australian sun is brutal and as fashionable as stubby visors are, they just don't cut it. They might be cool on the governors lawn party but where I live they give zero protection. From this reality I developed the Corsairs Cap with its signature visor and made in frog skin camo herringbone twill.
The Corsairs Cap was an instant classic and an all time customer favourite as it took the ubiquitous military cap to an entirely new place and in doing so attracted a clientele ready to be taken on an adventure.
As you know Papa Nui is constantly enamoured with the romance of the South Pacific whilst being heavily underpinned by my fathers service and experiences campaigning in New Guinea and the Solomon Islands during WWII. So while it's fun, it's also substantiated by very authentic origins. Combine this with production by John Lofgren in Japan and there you have a winning combo of conceptual design and crafted manufacture.
Papa Nui caps take influences from vintage military and workwear. What got your interest in vintage started?
The early 1980's was extremely prolific in music and fashion and I found myself drawn to London at 19 years of age, this was about 1982-83. I lived just off the Kings Road in Chelsea and first secured employment with Billy Murphy's American vintage store and then later at Robot footwear on the corner of Beaufort street.
Billy had been instrumental in the 1970's with his amazing tribute to everything Americana in his store, the Emperor of Wyoming. I learnt a lot from him but also from the folks at American Classics at World's End, Kavan, Adam and Peter.
With my employment with Dave Fortune and Michael McManus at Robot footwear, I was introduced to vintage tailoring and worked alongside Mark Powell who was already a supreme stylist and prototype tailor. When I left to return to Australia I was well on my way as a vintage enthusiast.
Back home I did a stint with another two English brothers, Chris and Michael Constantinou from Tooting in South London. Chris was older and served as my mentor, his taste then and now is sublime, none better. I was very fortunate in my youth to always have at hand older collectors who nurtured my interests and guided my taste level.
Now into my mid 50's I really try to reciprocate when I see younger folks taking an interest in the things I love. These years coincided with the explosion of American clothing stores and I managed to accumulate a sizeable collection of vintage. At the core of my interest was always military but I still had a ton of Levi's and Hawaiian shirts, Ricky and Ricardo jackets, western shirts etc. I used a lot of these to recreate ideas for the shop.
After 10 years I moved on to work for an Australian Surf brand and then onto Levi's Strauss. Fortuitously I met the GM for Levi's Asia Pacific and when I ended up telling him more about the brand and product than he knew, he hired me on the spot as a designer. Three days later the Product Development manager arrived down under to talk about changes to the region and we ended up having drinks after work.
Not long after I was winging my way to Tokyo to become a senior menswear designer for South East Asia and working in Ebisu.
Japan was really taking off at this stage, The Real McCoys was still a hole in the wall store in Daikanyama and I spent endless hours and dollars there. I had some great successes there designing product, my vintage style slim western shirt sold 81,000 units, I damn near fell off my chair! I stayed there for three years, working, buying and selling.
Leaving Japan I scored a 12 month contract with the Real McCoys as a researcher and conceptualiser. This is when Atsushi Yasui had just started at the wheel of design. Every month I would send up my findings usually photos and stories to spark product ideas. I worked on the Trading Post concept and also the Muroc Army Air Force base meets salt flats birth of hotrodding. It's interesting to see where these ideas have gone to now.
Then I hit my wilderness years, a long and grinding decade. Work was hard to come by and so I worked everything I could, building sites, bathroom demolitions, labourer, house painter, you name it. I had a young family and a mortgage and so I basically lived off my collection selling through eBay.
It was here by chance that I met John Lofgren. He was selling off his Japanese collection in order to finance his first store and I was selling off to put food on the table. We talked and interacted. I moved to another state, rediscover my teen obsession of surfing, cleared my head and then began work back in retail.
With my first store bonus of $345 I struck up a conversation with John Lofgren about caps. He said he could help. The rest? Well that history I'm still making. Papa Nui came out of all of that and could never have been conceptualised without the whole.
It took almost 40 years to find clarity, but the thing had never really gained momentum until I focused on what was true to me as an individual, that was my edge, the missing ingredient and the very thing that makes Papa Nui stand out as unique.
The thing we really bought into with Papa Nui was the stories behind the brand and the products. It's really interesting to hear how the people you've met and the experiences you've had have led you to where you are. I'd be interested to hear the story of the first run of Corsairs caps, way back at the beginning.
I think the thing is this, I'm a romantic at heart and I also grew up on Hollywood movies. When I created the Corsairs cap it was coming off this base and the cap had imbued in it all the romance and swagger of the South Pacific, that was my story. The Papa was developed from that very concept.
As I mentioned before, looking deep enough into what was my thing was the turning point in clarity for myself and the nascent brand. Every other brand had conceived themselves by recreating vintage this and vintage that and so I needed an angle that was mine and mine alone. That's when I realised that where I lived was the biggest individual factor of them all, on the metaphorical Atoll, and so with this in mind I made the link with living down here on the edge of the South Pacific and Coral Sea and all the romance that goes along with palm trees, white sand and turquoise blue water.
It helped also that my all time favourite read was James A Michener's South Pacific, so many of the background stories that I use in my marketing is drawn for this novel. Throw into this mix also the stories that my father told me when I was growing up, and what you get is a rich context of the myth, the magical and the very real.
The Corsair Cap really encapsulated all of this and the response from my customers has been amazing, I love it when they weave themselves into the story line and I get emails from all sorts of 'Captains', holding Beach Heads for the Papa across this wonderful planet.
Can you talk a little more about your father's experiences in WWII and how they influenced you? Do you have anything that belonged to your father amongst your collection of vintage pieces?
My father, John Tesoriero Snr, went to war at age 18 at a time when the Allies had just put the Japanese on the back foot with the Australian successes in New Guinea and the American victories at Guadalcanal. He was posted with 2nd Corps Signals and hit the beaches at Lae just after dawn on September 4th 1943. Along with the 7th and 9th Divisions they occupied a space that was crawling with 8,500 enemy troops harassing the Australian perimeter but largely they were a spent, sick and broken force.
In December he sailed for Finschafen but in the night his barge convoy missed the harbor entrance and they blundered into a Japanese shore battery that challenged the force with search lights and a signal code that Dad could understand as hostile.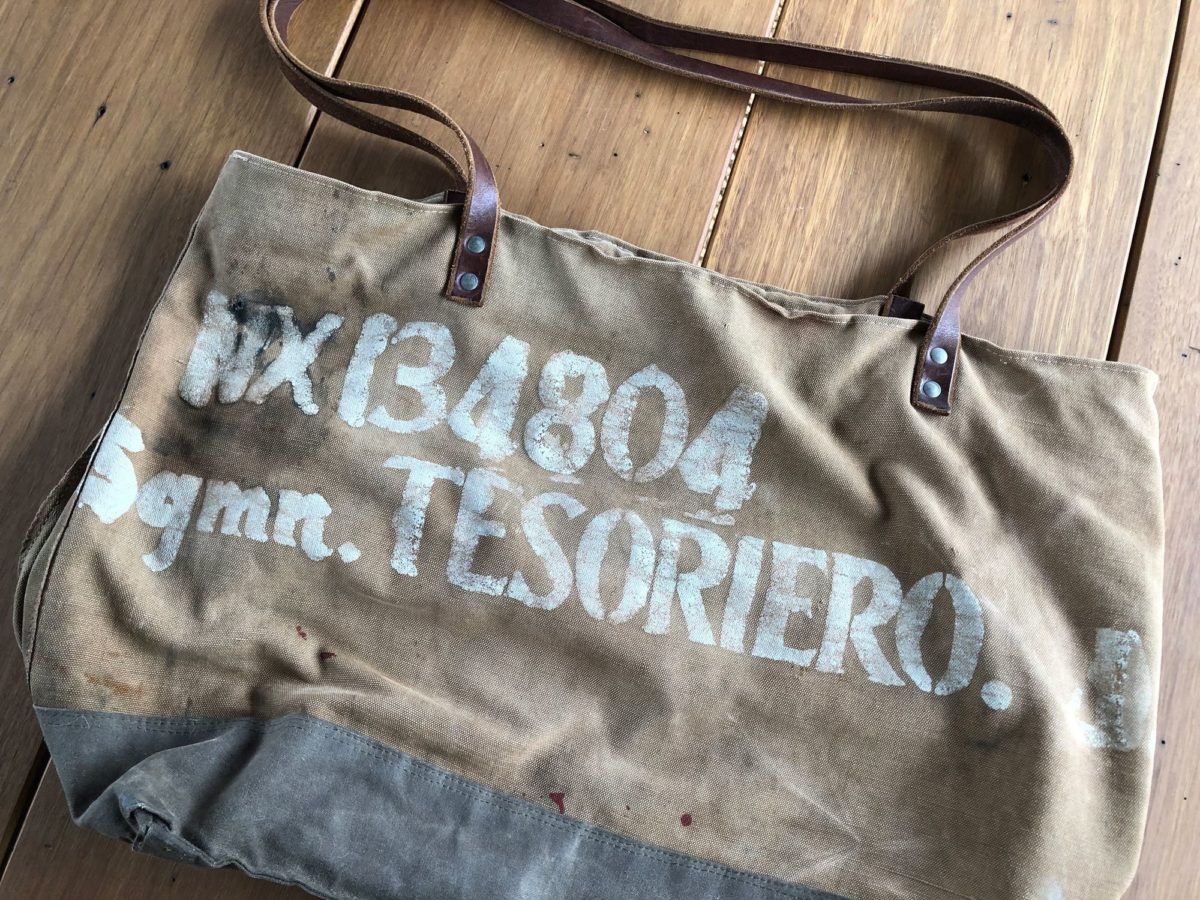 At that very moment a B-25 swung around the headland flying almost at water level and distracted the Japanese guns which open fired on the Mitchel as it ducked and dived in what Dad said was the most incredible flying he'd ever witnessed. He could see the crew at the controls in the glow of the interior lighting, they were that close. In the confusion the convoy was able to change direction and head back to safety.
Dad attributes that B-25 to saving his life.
My youth was full of this! My Dad time was spent in listening to endless stories which filled his every moment. It makes perfect sense then that much of what I do with Papa Nui is underpinned with this historical authenticity, it's unique no other brand can claim that. The older I get the more I understand that in many ways I am my father, so yes you could say that his influence has been overwhelming.
Dad was also a great collector so I inherited lots of his things, his kit bag, webbing, his helmets and a Japanese Marines helmet, endless boxes of badges, patches, cartridges and casings, a Union Jack battle flag and what I believe might be an 1853 Artillery Officers sword.
I remember there being much more but to be honest I think we trashed quite few things when my brothers and I were young and playing wars games in the back yard.
What is the process of taking a cap to market, from the initial idea through to it being available to buy? How has this process changed or improved since those first Corsairs caps?
It's a long process, perhaps 6 months or more. It doesn't get any shorter and as I'm doing production in the best facilities in Tokyo it means I'm in a queue with the heavies which means I'm often put to the back of the pack. I think they hate me!
Everyone of my caps is different so they can't get a handle on pumping them out as opposed to the 'others' whose product lines are pretty generic. Plus my runs are smaller so I'm not doing 5000 A-3's in HBT but then again what would you rather own.
With the Corsairs I was hungry to get it out there as it was the first of its kind. There was of course repop brands and reenactor brands using Frogskin Camo but none had taken the fabric anywhere with the flight of imagination. So plucking it from the ether and turning it into something new was important.
The first run sold through very quickly mainly to my blog followers and so then I was able to garnish interest from overseas retailers and so I got John Lofgren to do another run. It's been popular for sure and Frogskin camo now is perhaps the most demanded camo pattern of them all. It's also probably the most replicated idea of anything I've done.
Every week I see another manufacturer or Instagramer doing a version, some are very blatant others like to sooth the delivery with, "inspired but Papa Nui", but you know I wouldn't even mind so much if they actually took the idea somewhere further or put a spin on it but alas, no.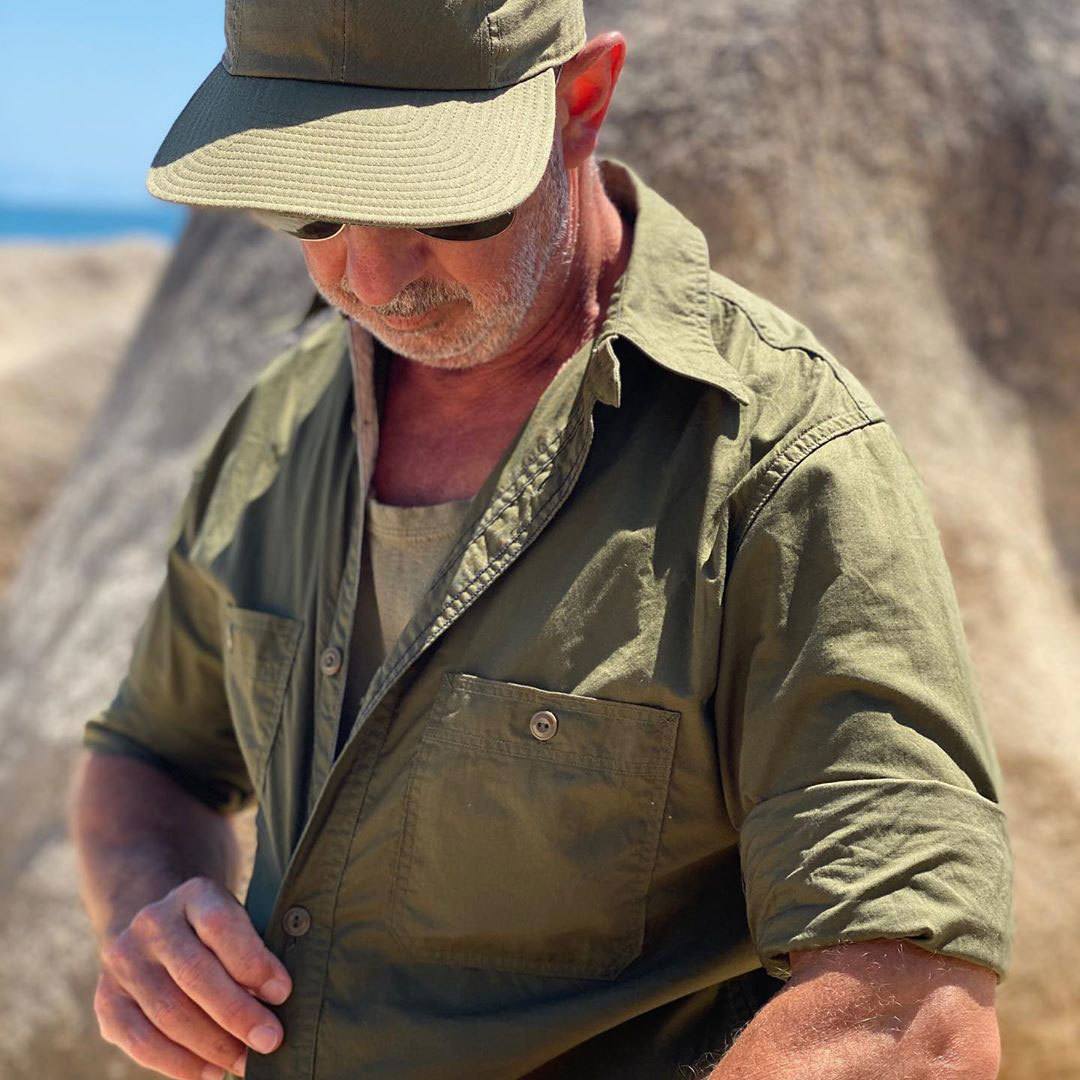 Following on the premise of the Corsairs I explored the 'field made' concept further and with that my ideas were boundless, caps like the Avenger and the Devastator took HBT to places it had never been and with each release the back stories got more and more fantastic.
Now however I'm working a little different. I binge design, letting my ideas flow on and on in an endless cycle of one thing leads to another. At present I have 19 new caps sampled and ready to go, so I'm way ahead of the curve. The only drama really is that anything more than 4 at a time delivered into retailers is too much. There's too many options so it's best to keep the styles tight.
There's some new Papa Nui caps landing soon. We're excited to be stocking them at Those That Know as one of the chosen few. Can you talk through the new caps and the influences behind them?
With the new collection, I'm just following on some solid ideas.
The PT-109'ers cap is 9oz indigo denim and is what I would love to have if I was on a Torpedo boat in the South Pacific. It a classic aviators profile with 4 panels but just a tad deeper this time so it stays put. The visor is slightly extended to maximise sun protection and the flip up is battleship grey, much the same as the colour of PT Boats at the time.
The back story involves John F Kennedy and coconuts but in a very fun way. With good fortune I'd like to expand this out to a jacket and pants that both stay true to the concept.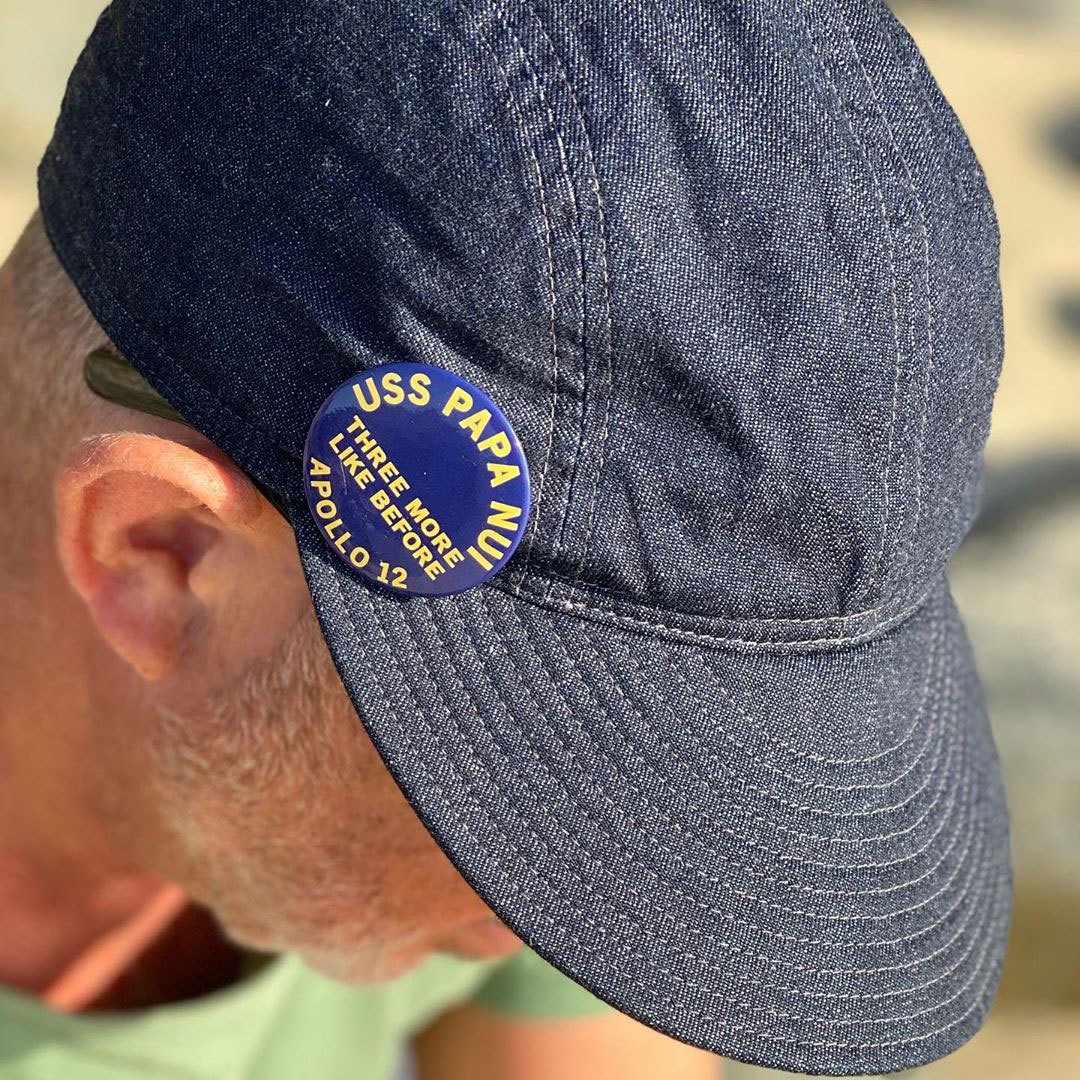 The next hat is a rare one! I managed to stumble on an Imperial Japanese Medical officer's boonie from WWII. Now I love a good Daisy Mae but this find takes it to a totally new place. I've tried to keep the execution as original as possible including recreating the owners name stamp on the inside, Fujiwara Takeo. Of course with a name like Fuji, how could you not make parallels with McHales house-boy?
The far North Pacific has always fascinated me too so I'm often dabbling up in the Aleutian Island chain with ideas. I wanted another great winter cap along similar lines to last winters Airboss which was an extremely popular cap, so this season I've launched the Aleutians cap, executed with a wool exterior and lined in cotton poplin. It's ruggedly handsome and should keep those arctic blasts at bay.
Lastly I have the Tailend Charlie. This cap is based on a style that Troy O'Shea and I released last year. It's popularity was due to it stingy visor which the story tells us is highly suitable for tight enclosures, ball gun turrets and the like. It sold so well that at times you have to realise that an idea has legs and maximise its potential so I made the call to run it out of Japan for the season.
That's about it for now. These are due in store at the beginning of Xmas by which time I'll be getting ready for showing my retailers the new summer 2020 collection.
You've done a few collaborations, perhaps most noticeably with Troy O'Shea. What do you look for when deciding on a brand or person to work with? Are there any brands out there who you think share the same ethos as Papa Nui who you'd like to collaborate with in future?
The thing with Troy is a beautiful story.
His Uncle, Greg O'Shea and I were good friends. Greg was one of those rare individuals whose taste was beyond awesome. He drove a Porsche sporters, rode a WLA Harley and surfed single fins. He had a mid century house full of Miller, Eames and Jacobsen and a Hollywood sized swimming pool! He also had a terminal tumour in his neck. With a beautiful wife and two young daughters his passing was a complete tragedy.
A few years later I was exploring options to run my Velos to Victory cycling cap idea, Troy's name had been thrown up and so he became a person of interest. Going up an escalator in the city I noticed this guy coming down. As we passed each other we both did a double take recognising each other from Instagram. I came back down and we met at the bottom and began talking about stuff, about making the new caps etc. out of the blue Troy, asks me if I knew a Greg O'Shea? I replied yes and that he had been a good friend of mine. Troy then said, " Well I'm his nephew".
Wow that just blew me away, it was so perfect, almost like Greg had orchestrated the whole thing from wherever so that Troy and I could put our individual talents to work, together.
Since then we have done hundreds of caps. It's an awesome arrangement as Troy allows me the flexibility to do small batch concepts that the major factories in Japan would never touch. Not only that, Troy is perhaps one of the finest cap makers on the planet. His passion for recreating vintage baseball caps means that the techniques he uses are second to none.
It's as authentic as you can get. The caps we do are the best you could buy anywhere and the ideas are completely unique, anything else is just a cap.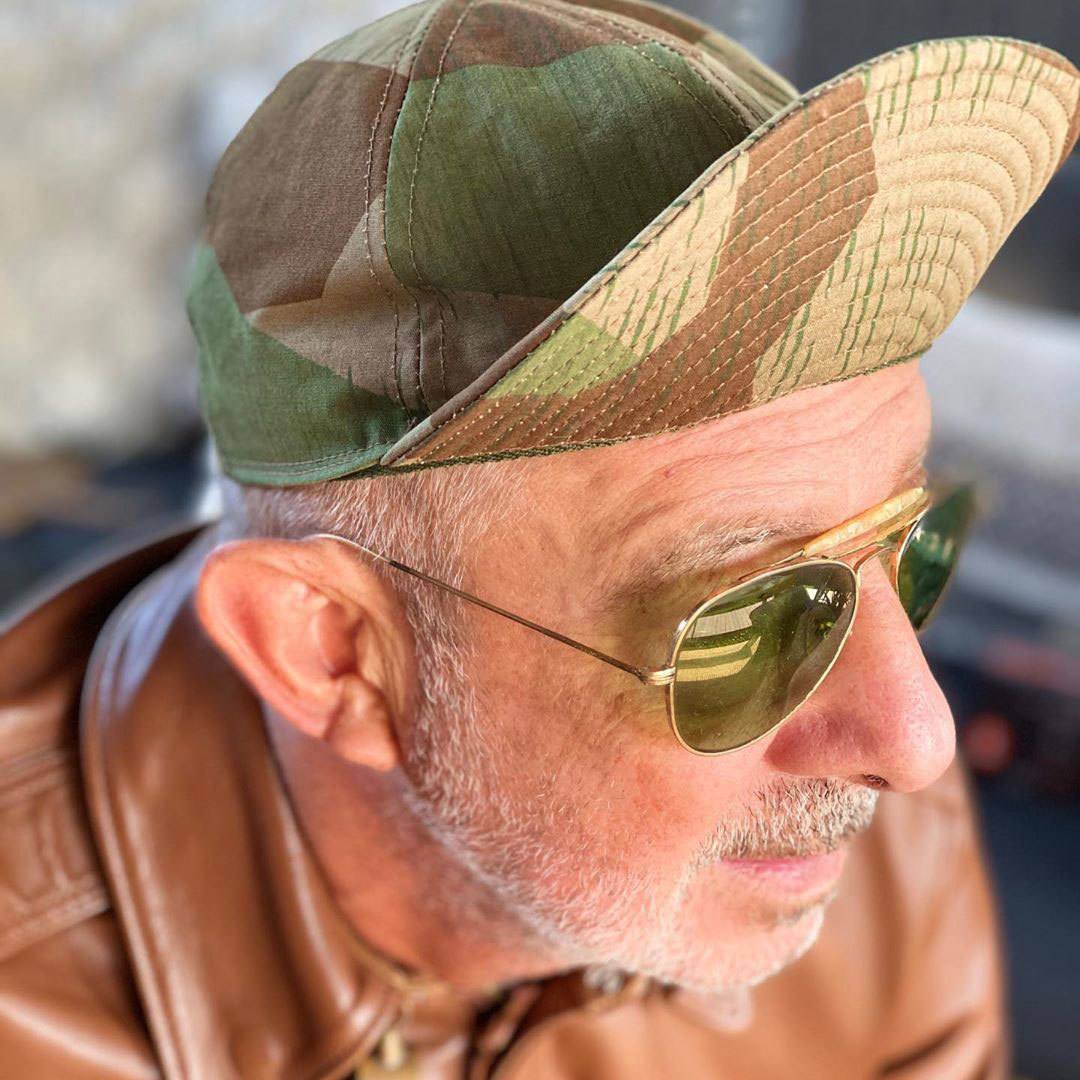 I'm very proactive when it comes to collaborations. I love them and it allows me to marry others talents with my conceptual imagination. The biggest issue I have is trying to deal with people who lack the energy to follow through.
There's a whole bunch of really prolific artisans out there. Red Rabbit is one, Horse and Anchor and Saner Lohvitee is another. They're awesome at pumping out the product. Then there's another bunch of great talent that can't deliver on their product, unfortunately there's a few I'd love to work with but I can't as I can't wait that long, I need to have things happening constantly, it's bad enough waiting 3 months for the Japan factory to make my collections.
So much of it's about timing, if you miss the timing you lessen the impact considerably. Sometimes an idea is so long in the development that I'm over it before it's even finished
The caps released in mid-2019 took their inspiration from the pioneers of the skies and space, being released under the Atoll Rocket Riders name. How did the idea come about? Do you have future plans to release ranges of caps based on a cohesive theme or themes?
Atoll Rocket Riders. What a trip! One of my all time favourite films was the The Right Stuff. I saw it at the premier and then read Tom Wolfe's book followed by Yeagers biography. This was a long time ago.
Then on Instagram Nucky was toying with styling cues influenced by the film and that whole era and so we shared a mutual interest and began discussing some concepts. Nucky came up with Atoll Rocket Riders tag and I developed a product line that fit together nicely. Again the timing was perfect! In fact so perfect that we had the jump on 'others' that were pursuing similar ideas.
It struck a chord somewhere because it sold a lot of product and it's some of my best work, so if you're reading this and we're late to the boat then you should jump on whatever left over product there is. The Apollo cap, the Yeager cap, the Mercury cap, all great stuff. And the Superfort. Well that's some A-3!
Going forward, yes there's some great themes, perhaps not as extensive as the Riders but certainly very cool, it's just trying to coordinate the different things so they're ready at the same time but that's not always possible.
And to finish with, a bit of an open question. What's next for Papa Nui?
Next? Oh god that changes every day! I'm constantly revising my position based on what's happening. Like I said earlier, I've got lots of great caps ready to go and more on the way.
I am at a crossroads however. I'd really love to be more involved in garment making but it's a tough game that requires a lot of money. Whilst I'm trying to dabble I'm not sure I've got the funding to really pursue this to any great end.
The other thing is my taste has developed over nearly 40 years so sometimes it's not overt enough for the masses to really get. Lots of the market want easily recognisable brands and styles as that allows people to feel they're apart of something, where I was always the opposite, to me I love when you have to do a double take on something and go Jesus that's an awesome piece.
Still having said all that I'm constantly cataloging my ideas as you never know when and how things may change.
I'd like to see more of the brand appearing in the media too. Australia is a long way away and quite isolated so it's no wonder I've made the metaphoric comparison to an Atoll. The great thing about this is what we do here is quite unique as it's developed in a cocoon very different from the States or the Continent. For us to be known outside these shores is also quite remarkable and speaks volumes to the freshness of our approach.
The drawback is nobody is sending an interview crew down to the antipodes to explore what's happening, there's no Lightning guide to Australia or features anywhere about Australians doing great stuff, and yet we do have our own wealth of talent, in design, manufacturing and retailing, it's just the rest of the world wouldn't know it unless you were really onto it. It's a long and slow process, banging down the door, but I'm eternally optimistic and so I just keep putting it out there.
I know that the Papa Nui Caps are unique and my customers do as well, there's a time when you just have to move beyond a generic snap back and fortunately for me the majority of the competition keep churning that stuff out whilst I'm on a tangent a million miles away, I like it like that!
---
The new collection is due any time now. Head over to the Papa Nui section of the shop to see the full range of caps in stock at Those That Know.