Loopwheel t-shirts are the absolute best quality t-shirts available. As we've added The Rite Stuff to our list of brands and their pocket t-shirts to our catalogue, we thought it would be useful to write a piece explaining what loopwheel knitting is, why it produces cloth of such high quality and what this means for the final product.
What is Loopwheel Knitting?
Loopwheel knitting refers to the manufacturing process of the fabric. Cylinders are set up at specific circumferences and loopwheel machines weave cloth around them. The result is a low tension weave in which the only tension applied to the fabric is the downward weight of gravity. The Japanese call it 'tsuriami ki' – hanging knit machine.
This lack of tension, along with the older needles and a low number of feeding threads results in a cloth that is very strong but super-soft. Most importantly, the natural characteristics of the raw material are maintained. When compared to modern, mass-produced t-shirts and sweatshirts, the fabric is denser and has a fluffier feel. The needles used in loopwheel knitting, known as bearded needles, introduce air during the knitting process for a gentler knit.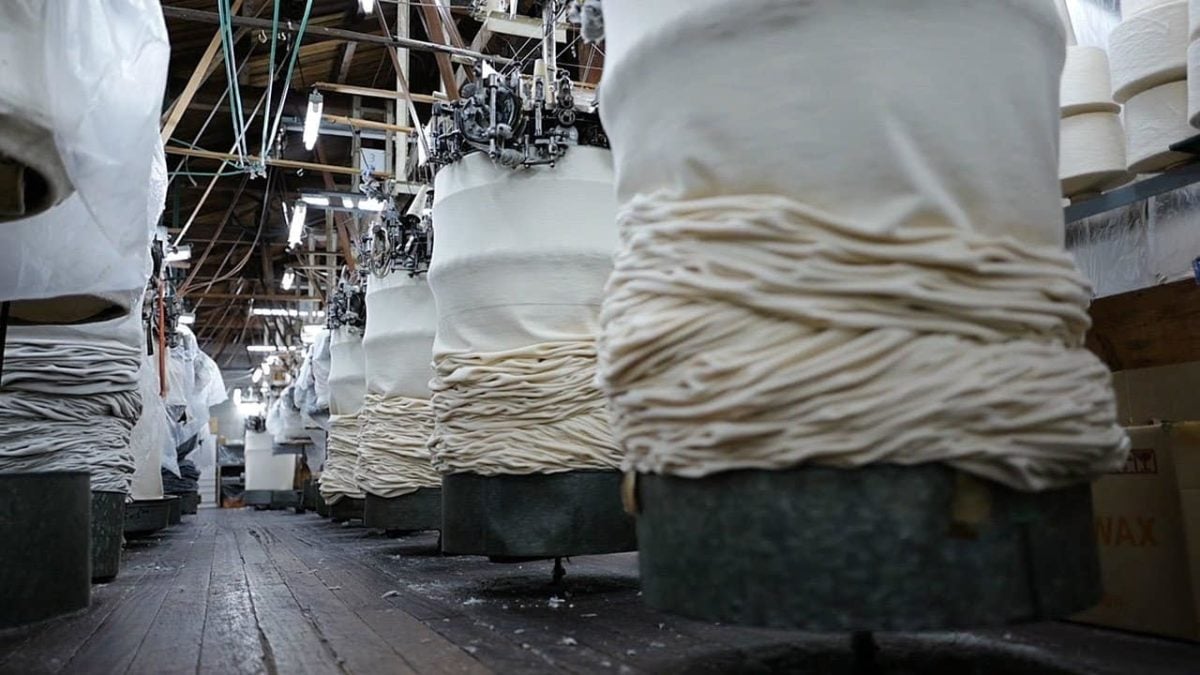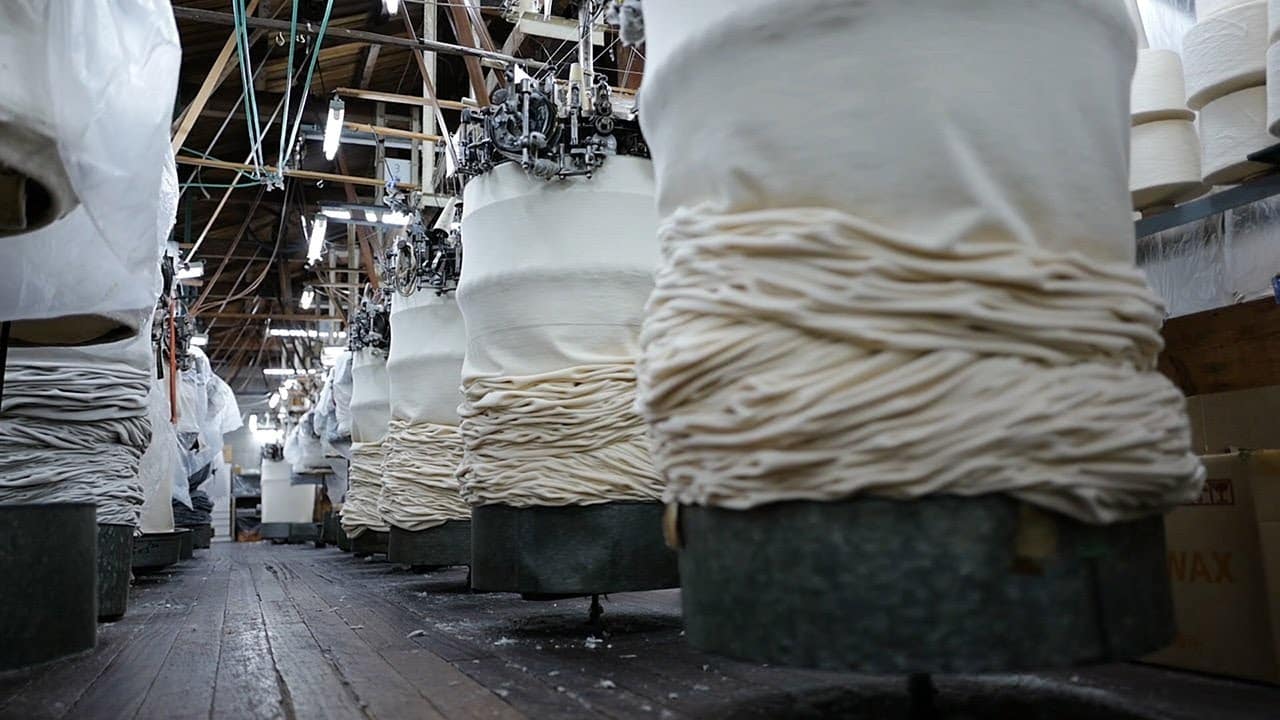 As loopwheel knitting is done around a cylinder, the resulting cloth is tubular and doesn't contain any side seams. This means that a cylinder has to be set up for each size of finished product required. If you're wondering why you're struggling to find an XS or XXL loopwheel tee, this is why.
Cloth knitted on a loopwheel machine doesn't necessarily mean that the finished garment won't have side seams, it can be cut and used in any way the designer sees fit. However many brands use the cloth in the way it was used by mid-century sportswear brands to create t-shirts and sweatshirts with a vintage, boxy fit and no side seams. The elimination of seams results in a more natural drape and a piece that will keep its shape wear after wear, wash after wash.
Loopwheel knitting is a slow process with only around half a square metre of cloth produced per hour. This, combined with the desire for fast fashion with a focus on the bottom line, rather than quality, makes it somewhat of a rarity today.
Origins of the T-Shirt
Before we get onto loopwheel t-shirts, it's worth taking a step back and considering the origins of the t-shirt itself. The first t-shirts came about in the late 19th century when workers would cut their jumpsuits in half to keep cool at warmer times in the year. The US military then developed the first purpose-made tees and by 1913 were issuing them as undershirts as part of a standard uniform.
The t-shirt remained predominantly a military and workwear staple during the inter-war years. It wasn't until after the Second World War, when returning military personnel began wearing their t-shirts as part of a more casual style, did the t-shirt start to become the ubiquitous piece it is today.
What really made the t-shirt cement its place as part of mainstream fashion was Hollywood. They featured prominently in iconic films of the time, with actors such as James Dean (Rebel Without a Cause, 1955) and Marlon Brando (A Streetcar Named Desire, 1950), popularising t-shirts on the big screen.
The t-shirts of this era were distinctive from the ones manufactured today with their boxy fit and quality, owing to the loopwheel knitting machines used in the manufacturing process and their primary purpose as a durable workwear piece.
The History of Loopwheel T-shirts
The process of loopwheel knitting was invented in 1926 by Italian inventor Giuseppe Negra. Despite their slow knitting speeds when compared to the machines used today, loopwheel knitting machines were used in the production of cotton t-shirts and sweatshirts which, as mentioned earlier, around that time had begun to be issued as part of US military uniform.
Loopwheel knitting continued to be widespread in its use throughout the inter-war years and until after the Second World War. Machines were licensed to American brands such as Champion and L.L. Bean and vintage finds from this era would have likely been produced on these original machines.
In the 1950s new high-speed flat weaving machines were developed that could produce fabric over ten times faster than loopwheeling. These advances and mass production and growing demand for a higher quantity of cheaper clothing meant that loopwheel machines began to be replaced. The last machines were produced in the 1970s.
Fast forward to more recent times and the culture of fast fashion and wear-once throw-away clothing means that loopwheel knitting isn't an efficient or cost-effective way for brands solely focussed on the bottom line to operate.
However, the handle and durability of garments manufactured on these machines is something that can't be replicated by modern, cheaper production methods. Loopwheel t-shirts are still produced by a small number of brands who, along with their customers, focus on quality rather than quantity.
In many cases, these old machines have been restored after having sat unused for years. It's because of the dedication and passion of a few select people that this important skill has been preserved.
The video above documents one such example of this by Japanese company Kanekichi Industries, which we'll come on to talk about shortly.
Where are Loopwheel T-shirts Made Today?
There are only two locations in the world in which loopwheel knitting machines can still be found in use. One is Wakayama Prefecture in Japan, in factories owned by Kanekitchi Industries and the other in the Swabian Alps, owned by Merz B. Schwanen.
Kanekichi Industries
Based in Wakayama Prefecture, Japan, and in existence since the 1920s, Kanekichi Industries produce loopwheel fabric on vintage machines that are as much as 80 years old. Only a few skilled craftspeople have the necessary experience to operate these machines, adding even further to the rarity of genuine loopwheel fabric.
Despite there being up to 400 loopwheel machines in existence in this part of Japan, only around half of these are still operational.
The video below is a short documentary supported by the brand Loopwheeler that tells the story of these machines. Watch it on the YouTube website itself and turn on translated close captioning to watch with subtitles. Alternatively, a video is available here with hardcoded subtitles.
Brands such as Buzz Rickson's, The Strike Gold and The Real McCoy's, whose loopwheel sweatshirts are, in our opinion, second to none, have their cloth made in this facility. Fabric for The Rite Stuff loopwheel t-shirts, available in our store, is also made here with the help of John Lofgren & Co.
Merz B. Schwanen
Founded by Balthazar Merz in 1911, Merz B. Schwanen would soon employ over 2000 people at its factory in Germany. Globalisation and the demand for fast fashion lead the company to close its doors in the early 2000s when its order books became empty.
A few years later, Peter Plotnicki, a German collector found an original Merz B. Schwanen piece in a flea market and immediately became fascinated by the brand. He began researching its history, leading him to a century-old factory in the Swabian Alps.
Here he found a room full of loopwheel knitting machines from the 1920s-60s, all needing some attention, but nonetheless fully intact. This discovery led to a vision of restarting the Merz brand and once again creating tubular knitwear using traditional methods.
In 2011 Merz B. Schwanen was relaunched with a new collection and has gone on to find a dedicated following of customers with an appreciation for simple, well made, long-lasting pieces.
How is Loopwheeling Different to Other Manufacturing Methods?
The main difference to the end customer (other than price) between loopwheel knitted fabric and that produced by other manufacturing processes comes from the lack of tension in the knit.
When woven on a flat surface, threads are pulled and put under significant strain. Cloth is often rolled for storage once the knitting is complete, putting it under further strain. When the threads are released from tension they try to regain their natural shape but in many cases, they will have been stretched too far. Some points in the cloth will have been exposed to a greater tension than others, giving inconsistencies and points of weakness. The result of this is a t-shirt that will lose its shape very quickly and with even moderate wear and a few washes, will begin to be permanently misshapen.
The addition of seams contributes to this too. Adding areas of unnatural tension during wear, seams result in uneven stretching and pulling where the t-shirt is stitched together. The lack of seams in most loopwheel t-shirts means that the force applied to the cloth during wear is more uniform and as a result, the t-shirt will keep its shape and look brand new for years.
This video made by Giles from Iron Heart explains a bit more about the loopwheel manufacturing process and why they use it to produce their t-shirts.
The Kanekichi Industries website has an interesting comparison between their machines and modern knitting machines.
Loopwheel T-shirts v Tubular T-shirts
As mentioned earlier, it's worth being aware when searching for a loopwheel t-shirt that loopwheel and tubular aren't necessarily the same thing. Many articles online will have you believe that any t-shirt or sweatshirt that has no side seams was made on a vintage circular machine, but this isn't the case.
Tubular knits are possible using sinker knitting machines. These machines are up to thirty times faster than vintage loopwheel machines. So, from the 25-30 t-shirts that can be produced per day on a loopwheel machine, using a sinker machine can produce enough material to make up to several thousand.
That's not to say standard tubular t-shirts can't be made to incredibly high standards. For example, some of the t-shirts made by The Real McCoy's are tubular but not made on loopwheel machines and they're some of the finest available.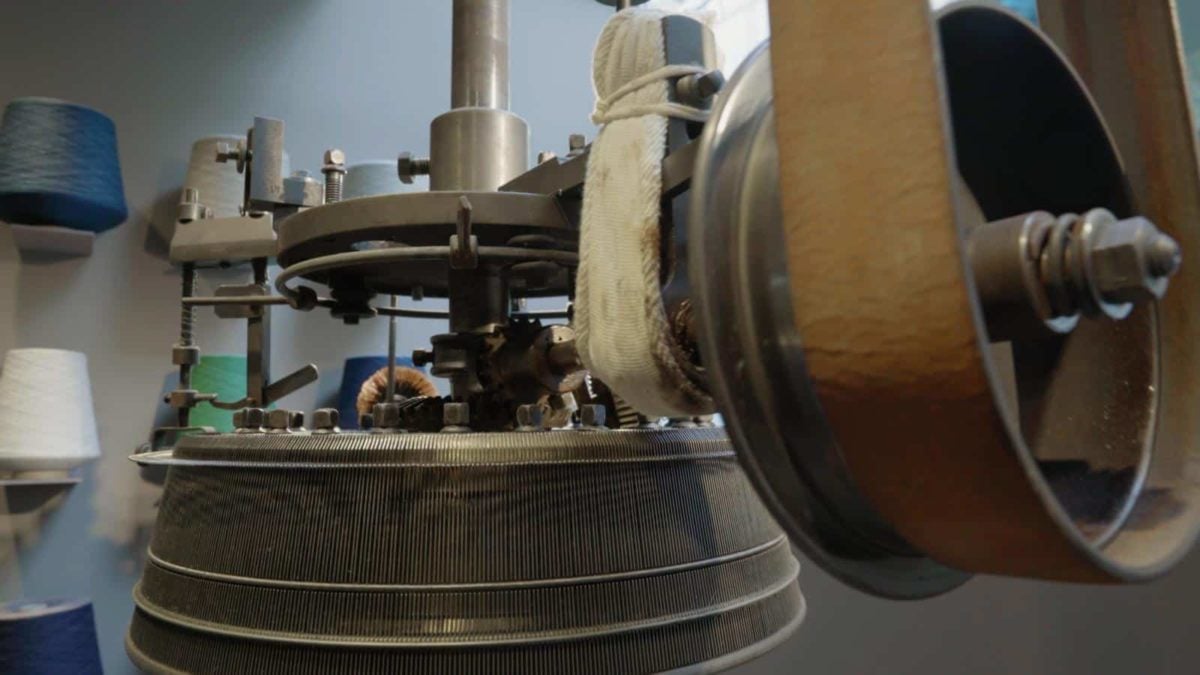 It is also the case sometimes that a brand will take cloth knitted on a loopwheel machine and use it to create a product that does have side seams. They will introduce seams by cutting and stitching the fabric during the construction of the final piece so, in this case, the finished product will have side seams but will be made of loopwheel fabric. This is a pretty counterintuitive thing to do so is relatively rare.
Descriptions online can be confusing with some brands and shops claiming to make and sell loopwheel t-shirts when they don't, most often likely due to confusion rather than an attempt to deceive.
If you want to be sure you're getting a loopwheel t-shirt the best bet is to go with a brand with a reputation for producing them or a retailer who has detailed knowledge about the manufacturing history and what goes into producing the pieces they sell.
Why buy a Loopwheel T-shirt?
Because of the cost of producing the cloth, loopwheel t-shirts are only produced by brands that have the highest standards of quality and the most ethically sound manufacturing processes. Yes, this means they're more expensive, but it also means you won't have to buy another for a long time.
The characteristics of the fabric mean that loopwheel tees are extremely durable and hard-wearing. They're suitable for heavy daily wear and will last for years. The lack of tension in the knitting process means that the cloth is strong whilst at the same time super-soft. Whereas a cheap, mass-produced t-shirt may last a matter of months, a loopwheel tee will withstand a decade of hard wear and will age gracefully over time.
The lack of side seams in loopwheel t-shirts, such as those produced by The Rite Stuff, result in a better fit and a garment that will keep its shape wear after wear, wash after wash.
Our ethos at Those That Know is to buy less but better clothes. Investing in a loopwheel t-shirt that will outlast lower quality t-shirts is not only beneficial from an environmental and ethical point of view, it also means the skills of craftspeople, whose passion and expertise makes these pieces possible, can keep these traditional manufacturing processes alive for years to come.
These processes come from a time when the primary motivation in the manufacture of clothing was making things that were designed to last. Before our current time of overconsumption, throwaway fashion and the ethically problematic practices of mass production. You can be sure when you buy a loopwheel t-shirt that you're getting the absolute best from both a quality and ethical point of view.
The history behind loopwheel t-shirts means that they're a great choice for people interested in early to mid-century workwear, military clothing and Americana, both in terms of the manufacturing process and the vintage fit.
Loopwheel T-shirts from The Rite Stuff
We spent a lot of time researching what we considered to be the perfect basic t-shirt to offer for sale at Those That Know. The conclusion we arrived at was The Rite Stuff Loopwheel Pocket T-shirt was it.
We'd been following The Rite Stuff online for a long time and had been huge fans of the passion and attention to detail that owner, Bryan Shettig, puts into everything he does, not to mention that his Hercules and Atlas Chambray shirts are some of the best out there.
We're delighted to be the only retailer in the UK, and one of only a select few in Europe, to offer The Rite Stuff products and their Loopwheel Pocket Tees.
Using the t-shirts worn by military personnel in the early 20th century as inspiration, The Rite Stuff enlisted John Lofgren & Co. to help them produce a t-shirt that was authentic not only in terms of appearance and fit but also manufacturing process. Shorter and boxier than modern t-shirts, it is finished with a pocket inspired by those on workshirts made by Reliance Mfg. in Chicago in the 1910s.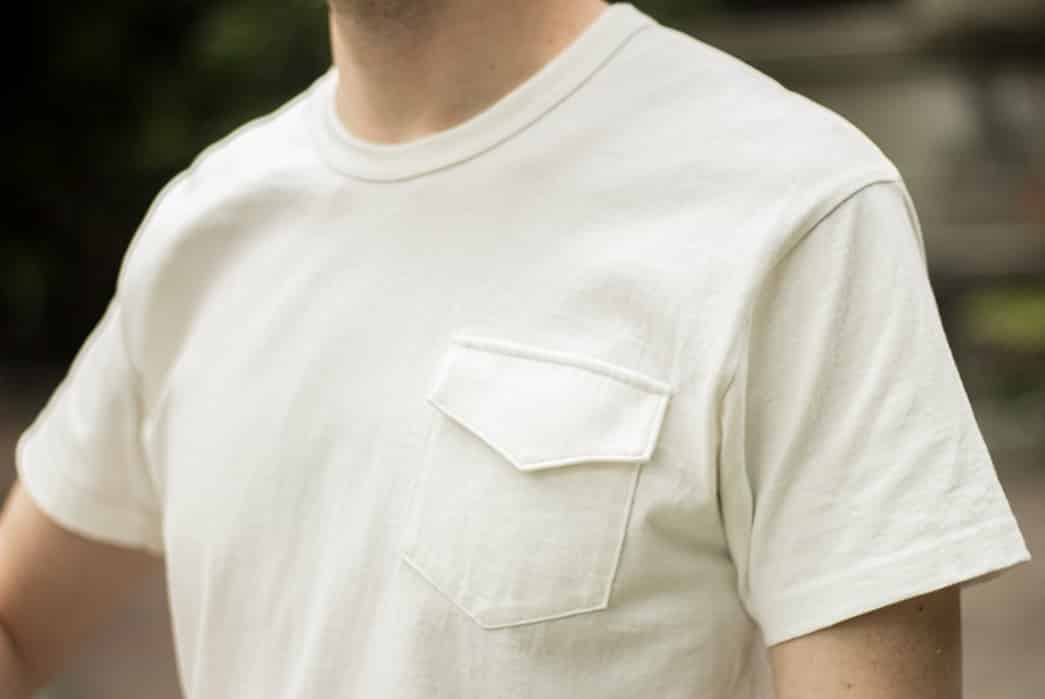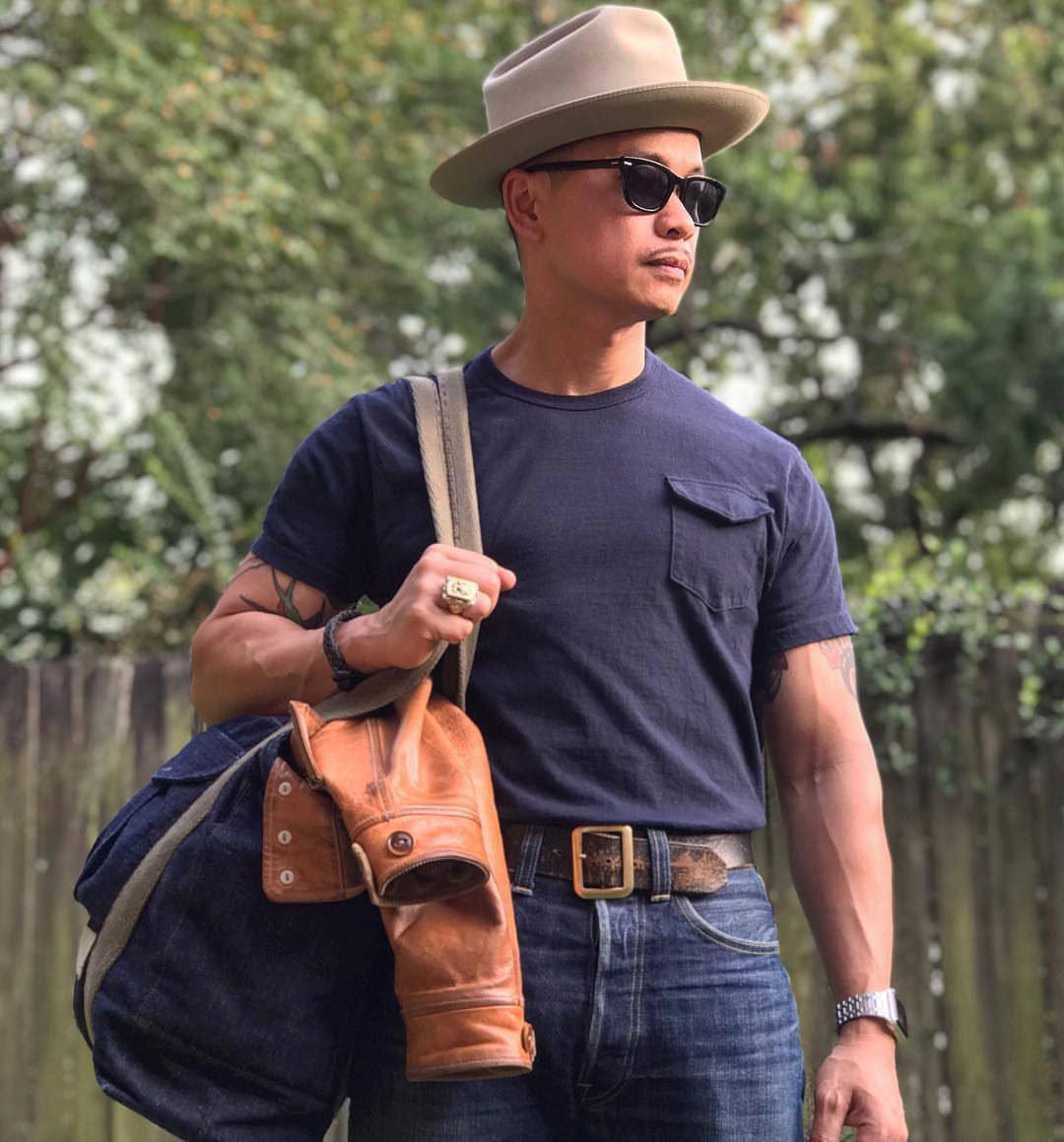 The result is a medium to heavyweight t-shirt with a vintage fit that is extremely durable whilst being super-soft. It's designed for daily wear and will look better over time with age. In our opinion, the absolute best t-shirt available on the market today.
For a more in-depth review of the t-shirt and more interesting information about loopwheeling, check out the review over on the Indigoshrimp blog.
Two colour options are available, white and navy. Both are available in limited numbers with only 50 of each available worldwide. Head over to The Rite Stuff section of our website to see the full collection and pick up your t-shirt.