The Rite Stuff produce pre-WWII era workwear using traditional manufacturing processes and the most highly skilled craftspeople. Each piece they produce is made in Japan by John Lofgren & Co.
We've been fans of The Rite Stuff for a while and had been following their work on Instagram since their early days. Much as with everything we sell, their clothes are an example of using vintage influences to produce something entirely new.
The Rite Stuff collection is made up of shirts, t-shirts and accessories, all full of classic workwear, period specific detail. Our first drop features the heavyweight Loopwheeled Pocket T-shirt, which comes in both white and navy.
A new take on a classic style that has been around since the 1910s, sailors in the US Navy were issues t-shirts as part of their uniform. By the end of World War 2, the t-shirt had caught on with civilians as more casual looks began to become more popular.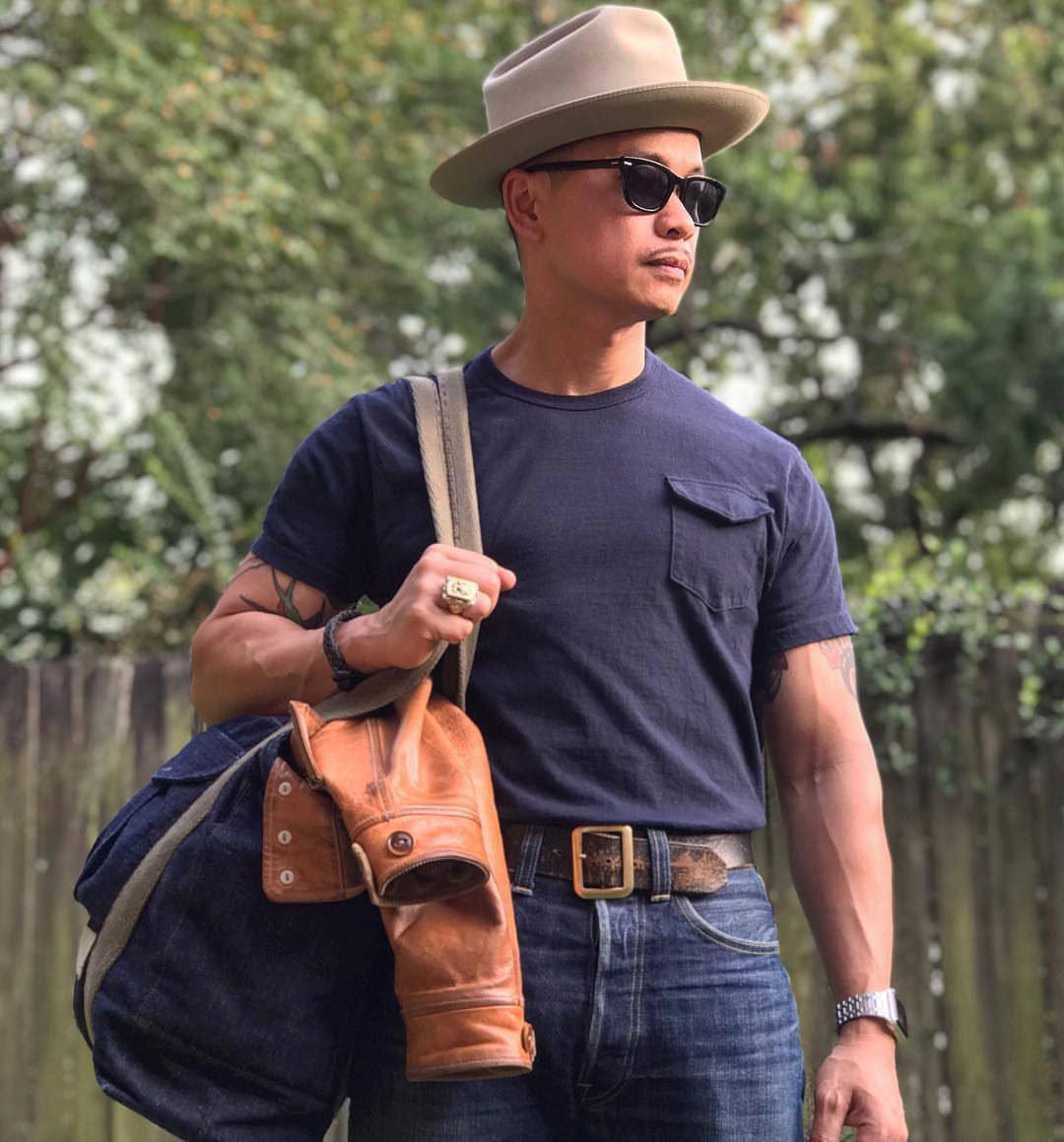 The Rite Stuff Pocket T-shirts are made using Loopwheel knitting which, because of it's slow and inefficient speeds, only exists in two remaining dedicated factories. Loopwheeled fabrics are knitted around a cylinder with the result being a circular, low tension weave that fully reflects the original characteristics of the material used.
When used to produce t-shirts and sweatshirts, loopwheeling means that garments don't have side seams. This results in a superior fit and something that will keep its shape year after year.
Loopwheeling results in the highest possible quality fabrics but is way too slow and time consuming to be used in fast fashion. A machine has to be set up for each size of garment required and each machine can only produce around a square meter of fabric per hour.
All this means that you can be sure that The Rite Stuff Pocket T-shirt is going to be rugged and hard wearing. We believe in buying less but better clothes and these t-shirts will last for years, looking better and better with age.
As with everything we sell at Those That Know, The Rite Stuff manufacturer their products ethically at every stage in their production. This means that workers, from the beginning to the end of the process, are treated well and paid well. Just as it should be.
The first drop from The Rite Stuff will be online soon, with a second, featuring Chambray shirts, following soon after. For more information or to place a pre-order, get in touch at [email protected].